Commercial Birch Plywood
AVAILABLE STOCK in SAJAA, SHARJAH
100% Birch Plywood Grade BB/CP
6mm / 9mm / 12mm/ 15mm / 18mm x 1220mm x 2440mm
CALL FOR PRICE & DELIVERY:
+971 4 336 39 25 – Office 
+971 55 238 0941 – Waheed Ahmed
We are direct importer of birch plywood in UAE. Thanks to our own distribution network available stock, you save on average 30% compared to traditional companies and we can deliver all products to you quickly all-around of UAE. Of course, all products can also be picked up directly at our stock in Sajja area, Sharjah, UAE
We work only with plywood mills and do control all delivery process into UAE. Our wide range of high-quality birch plywood includes all common sizes to deliver your project quickly, efficiently, and successfully.
In our warehouse you can choose the products yourself and pay. There is sufficient parking space for your car including trailer and your orders are neatly sorted and loaded for you by our warehouse employees.
Our birch plywood is a wood panel 100% made from thin sheets of birch veneer. Birch plywood highly demanded all over the world due to its excellent strength and rigidity related properties, good resistance to humidity, nice and smooth face veneer.
High level of strength characteristics
Great strength – weight ratio
Dimensional stability
High quality of sanded surface
Meets Standards:

E1-EN-13986-VTT
EN 13986 CE mark Eurofins
EN16516 / EPATSCAVI
ISO9001 / ISO14001 / ISO45001
OHSAS18001
CDD / CARB
Birch Film Faced Plywood
Film faced birch plywood is a type of plywood that is made from birch wood and coated with a thin layer of plastic film. The film is applied to the surface of the plywood to protect it from moisture and other elements, as well as to improve its surface smoothness and durability.
Birch is a type of wood that is known for its strength, durability, and attractive appearance. It is a popular choice for the manufacture of plywood due to its strength and stability, making it suitable for use in a wide range of applications.
The film used on plywood is typically made of polypropylene or polyethylene, which are both durable and resistant to moisture. The film is applied to the surface of the plywood using a special process that ensures a consistent and even coating.
Overall, film faced birch plywood is a high-quality building material that is suitable for use in a wide range of construction applications. It offers excellent moisture resistance, strength, and surface smoothness, making it an ideal choice for many types of projects.
Uses: Shuttering, construction purposes and etc.
Texture:  Smooth with/not logo
Formaldehyde emission: class E1
Glue category: Exterior, WBP
Phenolic coating, 120 g/m2 / 240 g/m2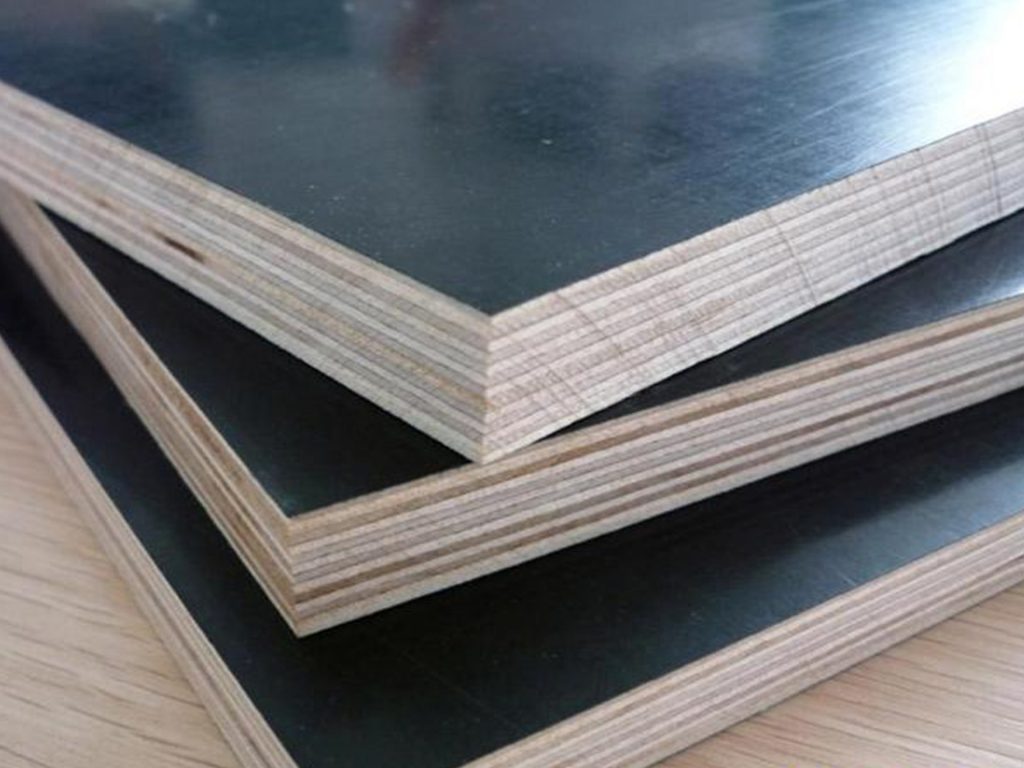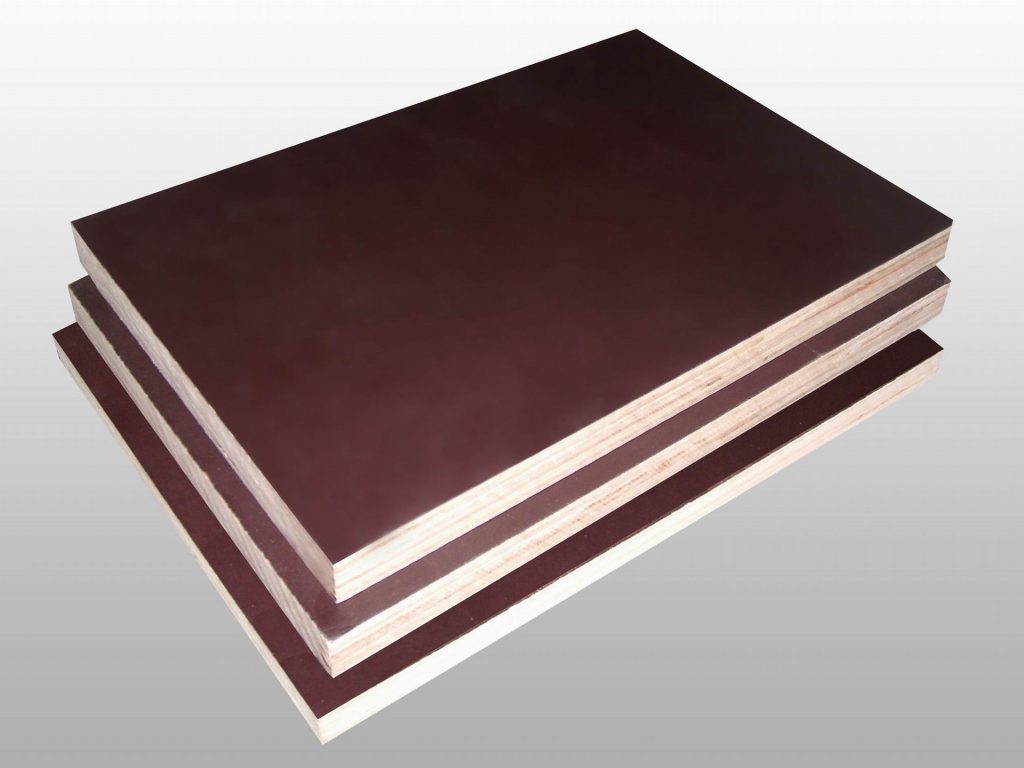 Pine/Spruce wooden panels
TIMMERON® FSC 100%
A pine or spruce furniture panel is characterized by medium hardness of wood.
As a wall panel or staircase part the wooden panel can be applied in interior design. Wide range of application in furniture industry as well.
Solid or finger joint lamella.
Quality: A / AB / C
Thickness: 18, 27, 40 mm
Width: 200, 250, 300, 400, 500, 600, 800, 1000, 1200 mm
Lengths: 800, 1000, 1200, 1500, 1800, 2000, 2500, 3000, 5000 mm
Each piece packed in plastic film.
We can also produce a furniture board according to your size by placing an order for production.
CLT (Cross Laminated Timber)
CLT  is a type of engineered wood product that is made by layering sheets of wood in alternating directions and bonding them together with glue. CLT is typically made from softwood species, such as spruce, pine, or fir, but can also be made from hardwood species. The sheets of wood are typically 3-7 layers thick and are oriented in a way that creates a panel with high strength and stiffness in both the vertical and horizontal directions.
CLT is often used as an alternative to concrete and steel in the construction of buildings. It has a number of advantages over these traditional building materials, including its ability to act as a structural element, its light weight, and its ability to be easily cut and shaped. CLT is also more environmentally friendly than concrete and steel, as it is made from a renewable resource and has a lower carbon footprint.
In addition to its use in construction, CLT is also used in the manufacture of  flooring and other products. It is a versatile material that has many potential applications.
Panels are made of softwood boards. Sawn wood is preliminarily kiln
dried until reaching 12% ±2% moisture content. Dry lamellae are processed,
stacked and glued under press.
Dimensions: 
Length: up to 16 m
Width: up to 3.5 m
Layer thickness: 20 mm | 30 mm | 40 mm
Standard width: 2.40 m | 2.50 m | 2.70 m | 3 m
Range of standard WPC board structures: 80mm – 320mm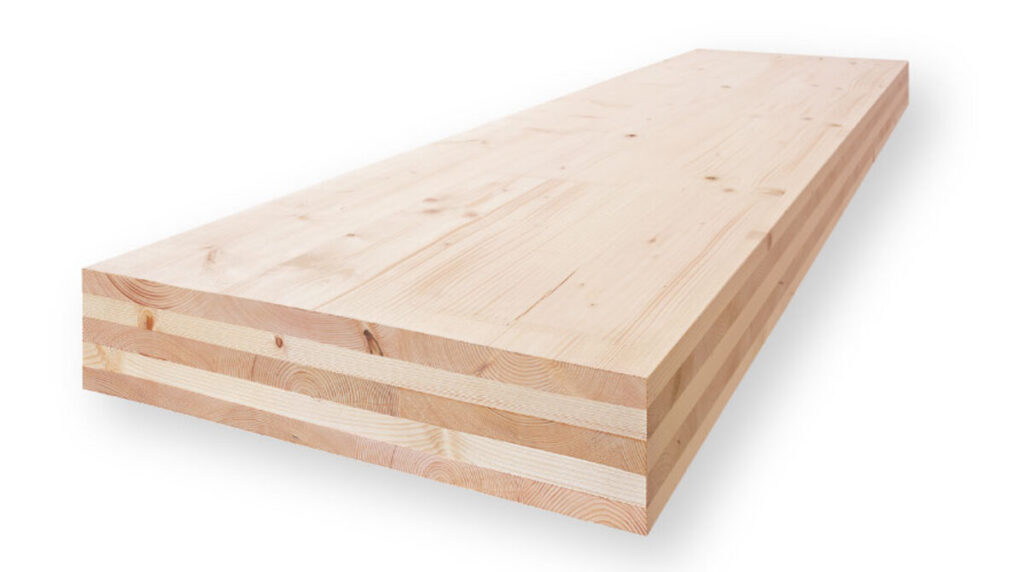 GLUELAM
Glued laminated timber or Glulam, It has greater strength and stiffness than comparably sized dimensional lumber.
It has high design values, improves architecture performance, and cost competitiveness. All these features make Glulam the superior choice for projects from simple beams and headers in residential construction to soaring arches for domed roofs spanning.
Glulam is a stress-rated engineered wood beam composed of wood laminations, or "lams", that are bonded together with durable, moisture-resistant glue. The grain of the laminations runs parallel with the length of the member. Glulam is versatile, ranging from simple, straight beams to complex, curved members. Glulam is available with different strength standards.
Length: up to 12 meter
Width: 50mm – 400mm
Thickness: 25mm – 400mm
Strength: GL24h, GL28h and other
Additional services: Impregnation
Glulam Applications
Glulam has a reputation for being used in striking, exposed applications such as vaulted ceilings and other designs with soaring open spaces. In homes, public buildings, and other light commercial structures, glulam is often specified for its beauty as well as its strength. It's also a workhorse in common hidden application, including simple purlins, ridge beams, garage door headers, floor beams, and large cantilevered beams. In commercial construction, glulam is used in applications ranging from large, flat roof systems to complex arches. Glulam also meets demanding environments of bridges, utility poles, cross arms, and marinas. Learn more about glulam in commercial and residential construction.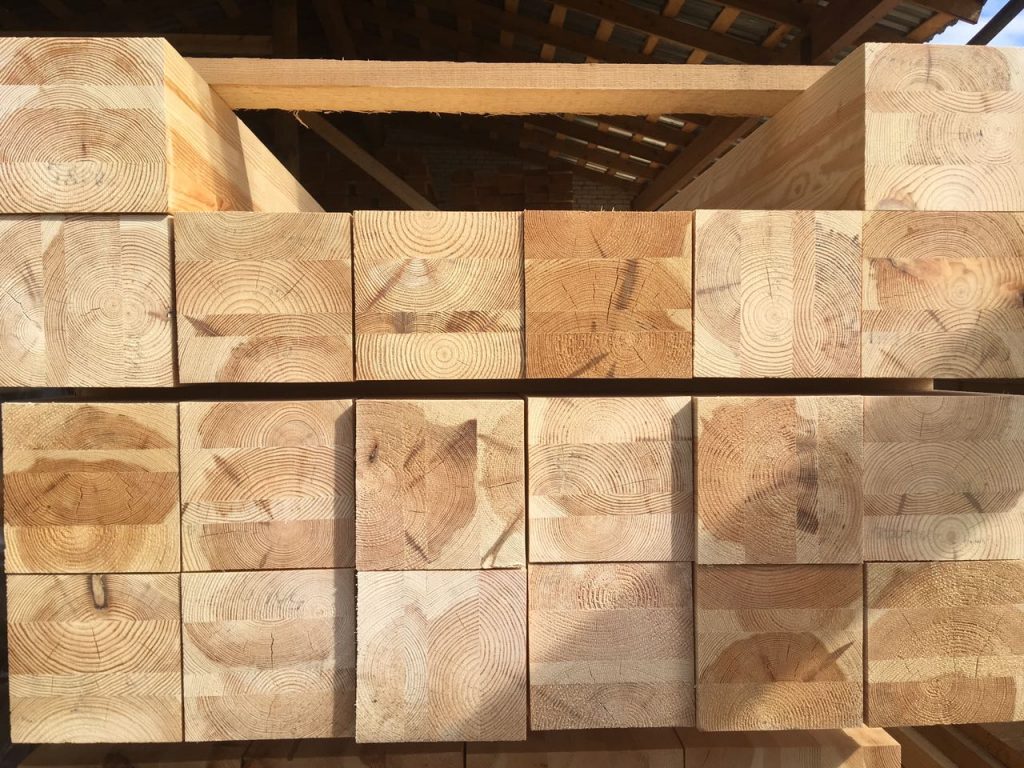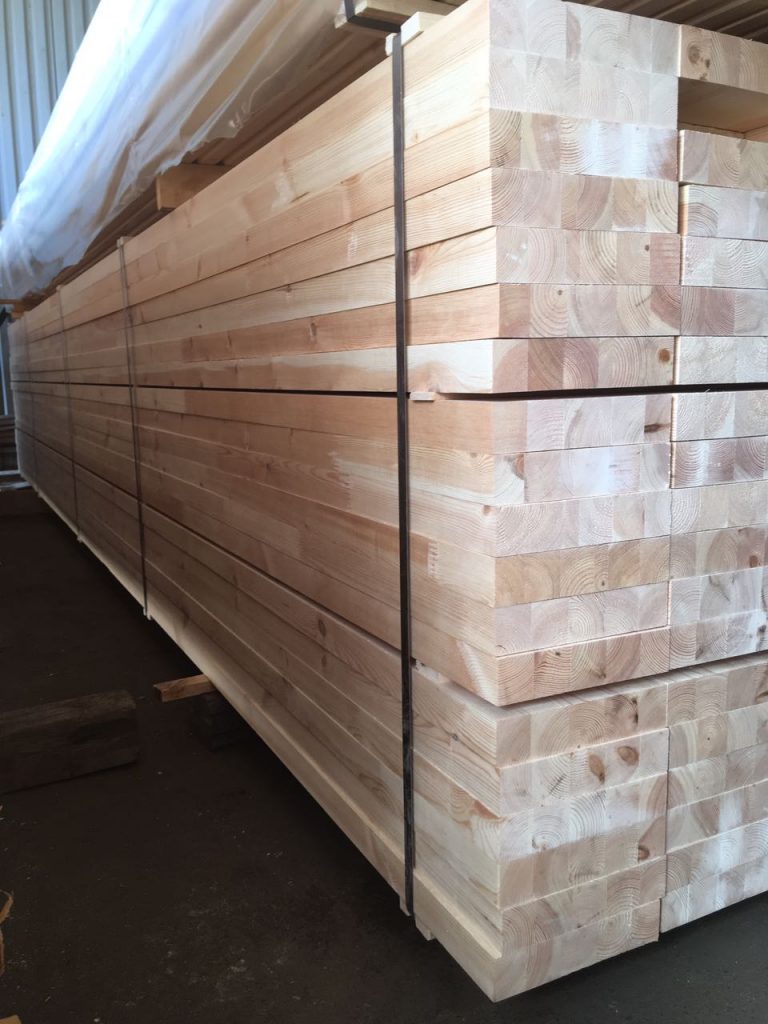 RUF BRIQUETTES
These briquettes are manufactured on original RUF hydraulic press made in
Russia. The briquettes come in 'sawdust brick' shape sized approximately
65mm x 90mm x 150mm and they burn at high temperature with minimal
smoke due to low moisture content of the wood. The product is 100%
ecological: no glues, no adhesives or any other chemicals.
WOOD PELLETS
Wood pallets are made from wood shavings, dry chips and sawdust
by-products and oer a reliable, renewable source of energy for
residential, commercial or industrial heating. Nowadays, pellets offer a great
modern solution for various heating purposes worldwide and with low CO2
emission the pellets contribute to our global sustainability.
PINI KAY BRIQUETTES
The Pini-Kay briquettes are made of pressed sawdust and last a long time
generating a considerable amount of heat relative to their size. Because of
the hole in the briquettes, the air flow is improved and the amount of smoke
is significantly reduced. These ECO-friendly briquettes are popular due to
their very low moisture content and natural look.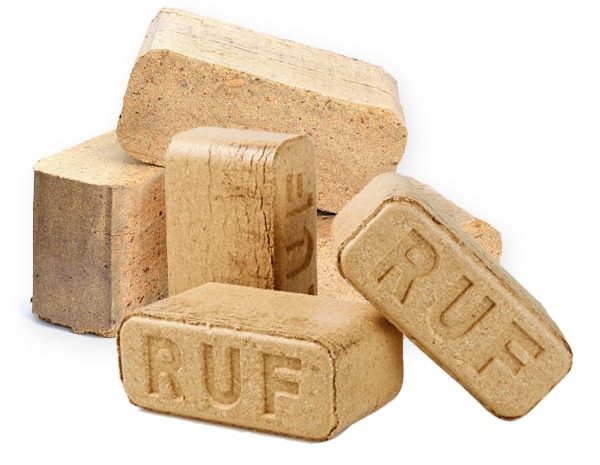 Firewood
People use firewood in their fireplace to make temperature hot according to their need, and also used in their stove for cooking. For making tea, coffee, pizza, cake, etc.
Birch woods are easy to split, do not smoke much or release many sparks. All birches are an excellent choice for burning as firewood. Birch has a slightly sweet smell and looks good on the indoor rack. It tends to dry fast.
Due to quick drying its releasing more energy and faster, bringing your room up to required temperature quickly.
Specifications:
Good quality, slow burning, high heat
More energy than plain wood
Drying duration is faster
Goods – Chopped Wood for fireplace, length 25.0 cm + – 1.0 cm
folded in a wooden box with pallet, 2.0 m3.
Wood: Birch
Humidity – 20-22% + /-  1% in the core
Quantity – 1 pallet (box) – volume of 2.0 m3, weight 750 kg.
Number of units – 23 pallet (box) – Total volume 46 m3
Dimensions – height of the box, 2.10 m, width 0.85 m, length – 0,118 m
Total weight – not more than 21 tons, including the weight of the package.
Origin: Russian Federation